Chief executive of the enigmatic Sayers Group, Sammy Kumar talks racism, real profits and how 20 years mixing business and personal with chairman Luke Sayers has never been an issue.
By DAMON KITNEY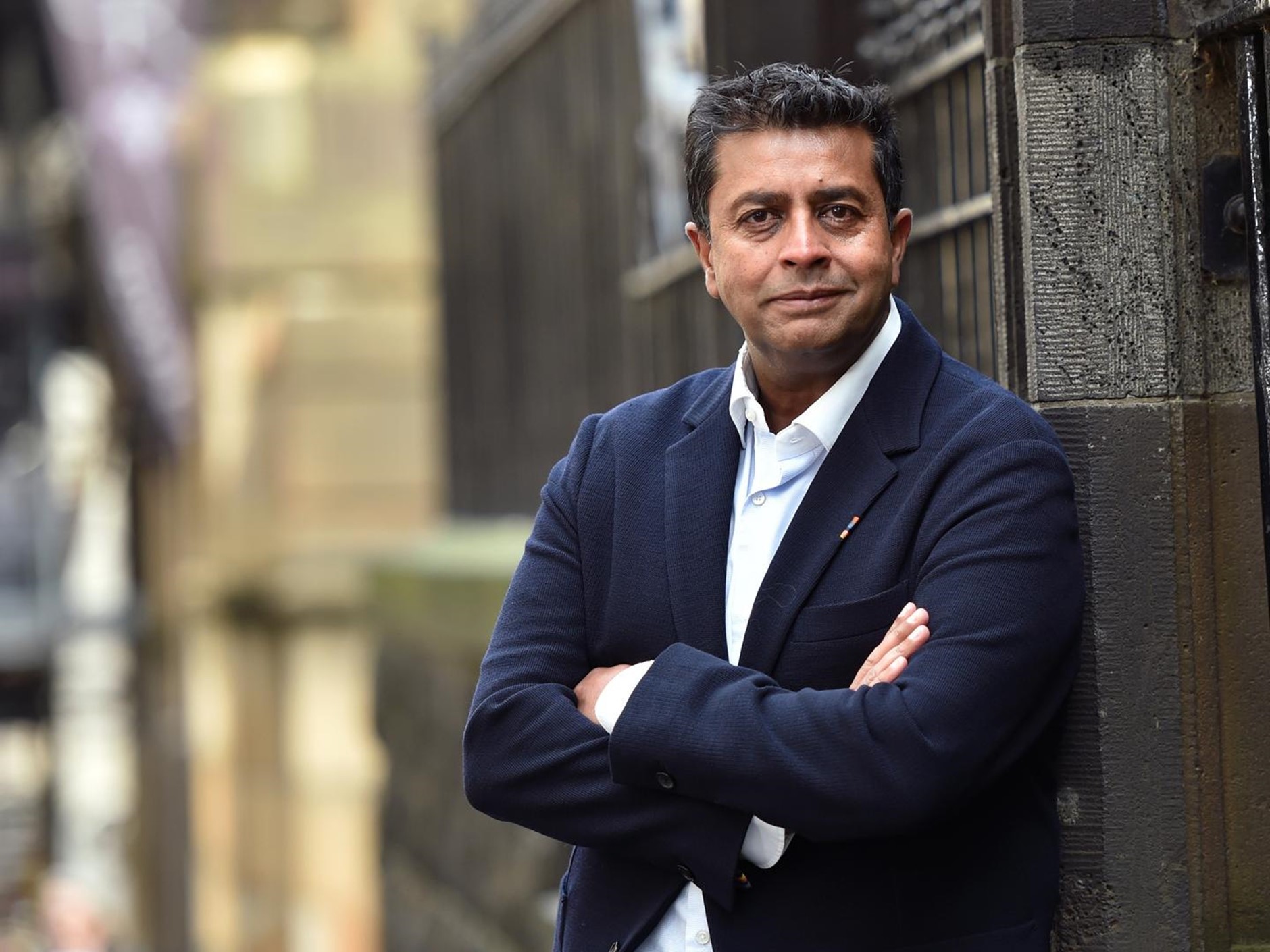 Sayers Group chief Sammy Kumar is comfortable being known as the firm's right-hand man. Picture: NCA NewsWire / Nicki Connolly

On his first day of school in suburban Melbourne nearly 50 years ago, Sammy Kumar's teacher decreed that his actual name, Sameer, would be too hard for the children in the class to pronounce.
He was the only Indian student in the school, so the teacher decided that he would be known from that day forward as Sammy.
"Sameer is the name I sign everything with now. But no one knows me by that name," he says.
It was not long after the White Australia Policy ended, and while Kumar's parents were Hindu vegetarians when they arrived from Delhi in the late 1960s, they were determined to fit into the Australian culture. But it didn't save them and their only son from vilification.
"There is no doubt there are pockets of racism here now. When we moved here in 1969, it was a very different Australia. I experienced racism, without doubt, at school and in pockets outside school," he says.
"But every kid had something. I don't bear a grudge. It is there and everyone has something they need to work through."
Kumar never let the challenges hold him back, graduating from private school Haileybury to study for a bachelor of business at Chisholm Institute of Technology, now part of Monash University. Given both his parents were professors, he felt the weight of expectation.
"My single bachelor's degree in chartered accountancy paled into insignificance alongside my father's PhD and my mum's double masters. After the disappointment that I wasn't going to be a doctor, they were proud of me joining one of the big firms," he says of his graduate traineeship with Price Waterhouse, now PwC.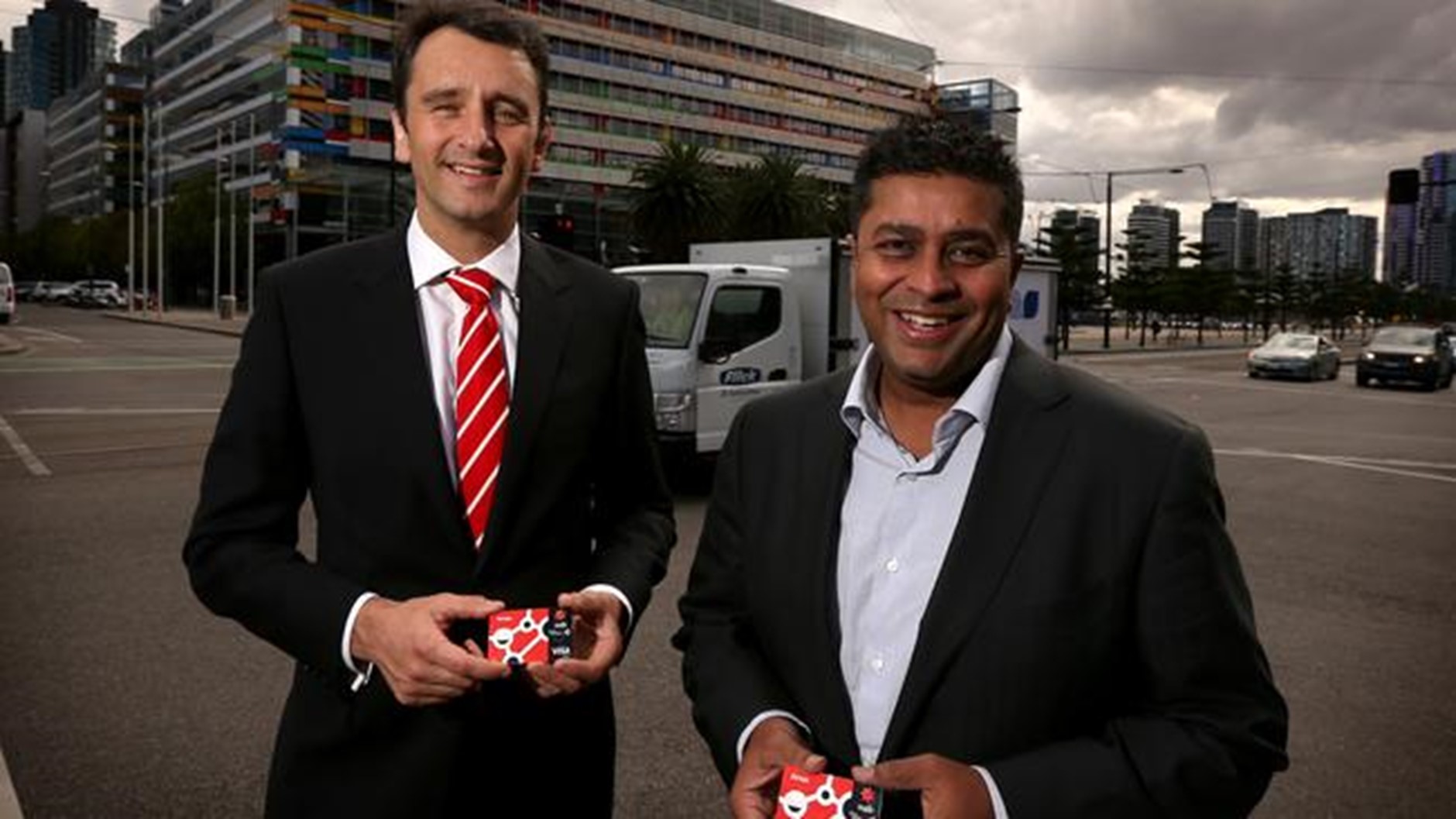 Sammy Kumar in 2016 while still at PwC with NAB's Antony Cahill announced a new partnership for the flexible economy. Picture: Stuart McEvoy

He spent the next three decades at the firm, one of the four big accounting firms, eventually making partner in its highly competitive US business. Kumar says he will "always love" PwC.
But when the firm's charismatic Australian CEO Luke Sayers decided to leave in 2019 after eight years in the role to start his own advisory firm, Kumar found the temptation to follow him irresistible. Once viewed as the next in line to follow Sayers as PwC's local CEO, Kumar's ambitions were dashed when he was caught up in a conflict of interest scandal involving Australian Visa Processing (AFP), a company part-owned by PwC that was tendering for a government contract to run Australia's visa processing system.
While he was exonerated by an internal inquiry, he knew the controversy and his more than 30 years with PwC in America, Canada, South America and Asia meant it was time to move on.
Today he has the CEO role at Sayers Group, where Luke Sayers is executive chairman.
Sayers is now a larger than life personality in Melbourne with his presidency of Carlton Football Club and close links to the billionaire Fox family – an investor in Sayers Group – and Premier Daniel Andrews.
Sayers Group has advised the Victorian government on the Suburban Rail Loop project and other major infrastructure assets.
Kumar also boasts impeccable Melbourne networks, sitting on the board of the Melbourne and Olympic Parks Trust and the Royal Children's Hospital. He is also a well-connected supporter of the Hawthorn Football Club.

Ambitious plans
Sayers Group calls itself an advisory and investment business built for the "change age".
Ask almost anyone in the accounting profession, a big investment bank or the wealth advisory community about the firm, and they will have an opinion.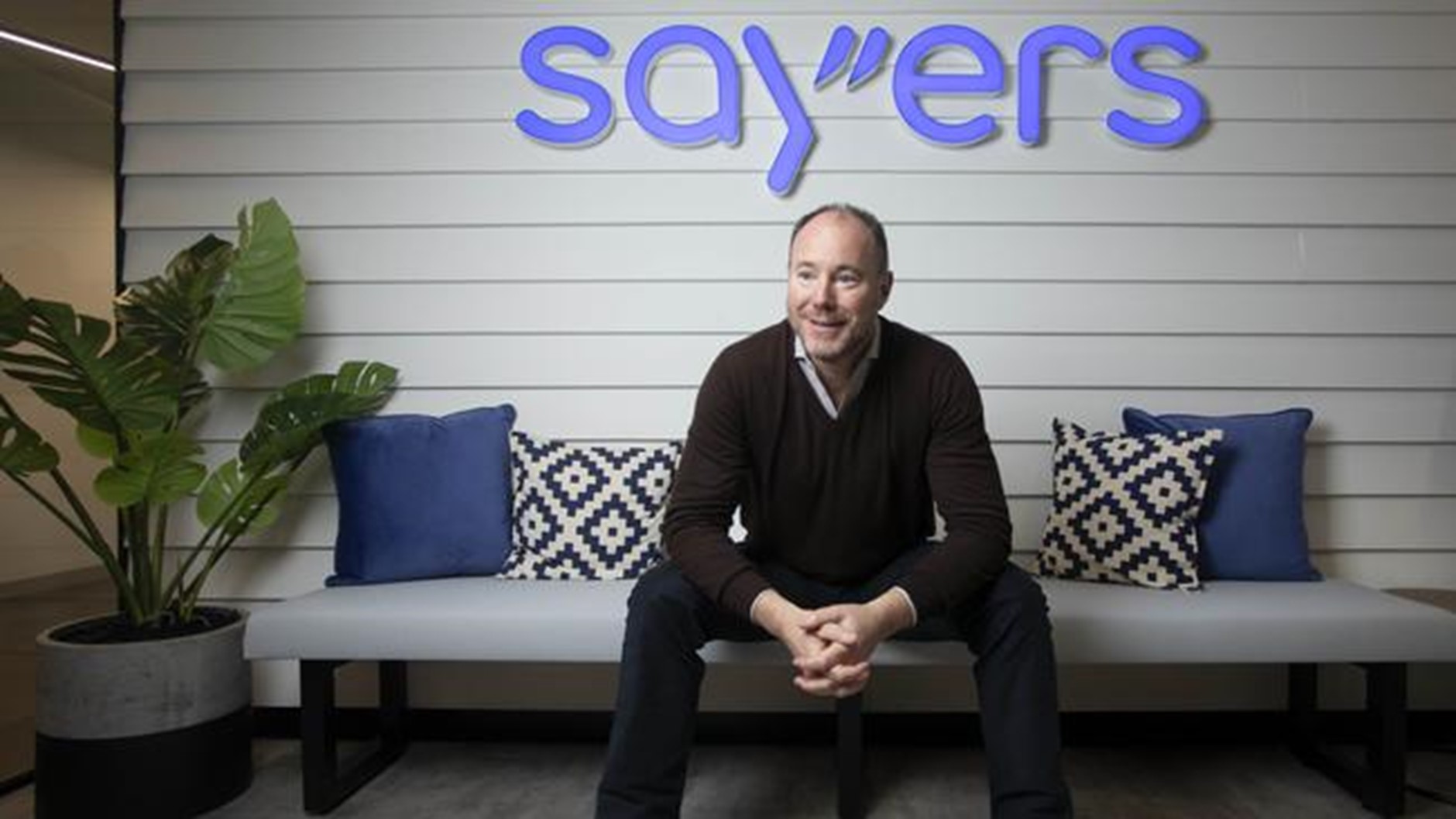 Chairman of Sayers Group Luke Sayers in his offices in Melbourne in 2021. Picture: Arsineh Houspian

The critics say they can't understand the business model and question whether it has tried to do too much too early – it was only launched in 2020 – across its advisory and wealth arms.
Kumar runs the former, which has operations focusing on strategy, government, infrastructure and major projects, technology and platforms, and what it calls "brand momentum".
He says the major revenue generation for the business is split between big corporates, government and private companies.
"We are happy with the areas we are in," the 54-year-old counters when presented with the criticism. "We are not looking at getting into new areas like cyber. The results prove that we don't think that perception (of trying to do too much) is right."
He reveals the firm, which counts former Westpac chief executive Brian Hartzer as a consultant, exceeded its revenue and profit forecasts in its first full year of operations to June 30, 2022.
He claims the numbers were "stratospherically better" than the group's initial business plan and its subsequent – and higher – budget.
"We are a profitable entity 18 months into our history. Bottom line. After everything. Not any funny profit. Real profit," he says.
"We couldn't be happier sitting here at the end of our first year. We were lucky that trading conditions were pretty buoyant. So anyone in professionally services – lawyers, consultants, investment bankers – have had a good run."
Sayers is advising the nation's biggest home builder, the privately owned Metricon, whose CEO Mario Biasin died suddenly in May. Later that month Metricon's owners tipped $30m into the business to show confidence in its future amid ongoing speculation about its financial position.
A key focus for Kumar at Sayers Group is on strategic work for private companies and "scale-ups", which "want absolutely top tier, quality professionals."
"They don't want armies of junior people – they want senior people," he says. "They want strategic help, advice on succession, cost reduction, raising capital, growth opportunities and helping execute those things. Sometimes they are looking at mergers or even selling the business."
Even the most talented business owners, he says, sometimes need a person to sit beside them and test their thoughts.
"I can't tell you how many small private scale-ups were talking about doing an IPO 12 months ago. We told them it was crazy and that advice saved them from being in absolute no-man's land now. Many rival advisers were pushing them to list because they wanted a fee," he says.
Luke Sayers describes Kumar as "a high integrity, values-based professional that has an ability to think creatively and in an innovative way about client challenges and problems".
"He has an uncanny ability to move clients towards pragmatic answers and solutions to their problems," he says.
Sayers' access to private companies has certainly been helped by its big-name backers. In addition to Lindsay and David Fox, Jayco founder Gerry Ryan and Seek co-founder Andrew Bassat are equity holders, while the firm also has the backing of a major American family office.
"There is no doubt the private shareholders, plus some of the relationships we all have – led by Luke – gives us acceptability into that circle," Kumar says.
Last October Sayers launched a marketing and brand advisory arm utilising the creative talents of famed adman, Russel Howcroft, to help organisations build their brand value, their brand equity and to help start-ups understand the power of brand and marketing.
Kumar claims it has "gone gangbusters". "We are not going in there to talk about brand to get an ad campaign or website build out of it. We are vested in advising them strategically," he says. In December 2020 Sayers also started its wealth business, and while its inaugural boss Neville Azzopardi initially set lofty targets publicly, the former JBWere Adviser quit after less than a year. Sayers Wealth is now run by another former JBWere executive, James Wright.
"It has taken longer to ramp up than we originally anticipated. I think that original view was from a position of naivety, to be honest, than anything else," Kumar says. "Private wealth is an intimate relationship game and trusting someone with it takes time."

Friends for life
Sayers and Kumar first met in 1991, when the former joined Price Waterhouse's technology audit team as a summer vacation intern.Kumar, being a couple of years his senior, was appointed Sayers' "buddy" in the cadet program.
Years later when Kumar returned from his work abroad at PwC to the Australian business, he was widely viewed as Sayers' right-hand-man, as he is today at Sayers Group. "I think that is fair," Kumar says of the label.
"He was the CEO and I was one of the executives at PwC. Here at Sayers he is the chair. I am the CEO. I think he would like me to step forward and be more front and centre and I am more than ready for that as well. But I am not uncomfortable with people thinking I am his right hand man. We both complement each other and have a shared passion for what we are trying to create. We are both driven to create change. I respect him and I love him."
That doesn't mean they don't disagree. A lot. But almost always in private and each has been prepared to compromise or respect that on certain matters, one person has the call.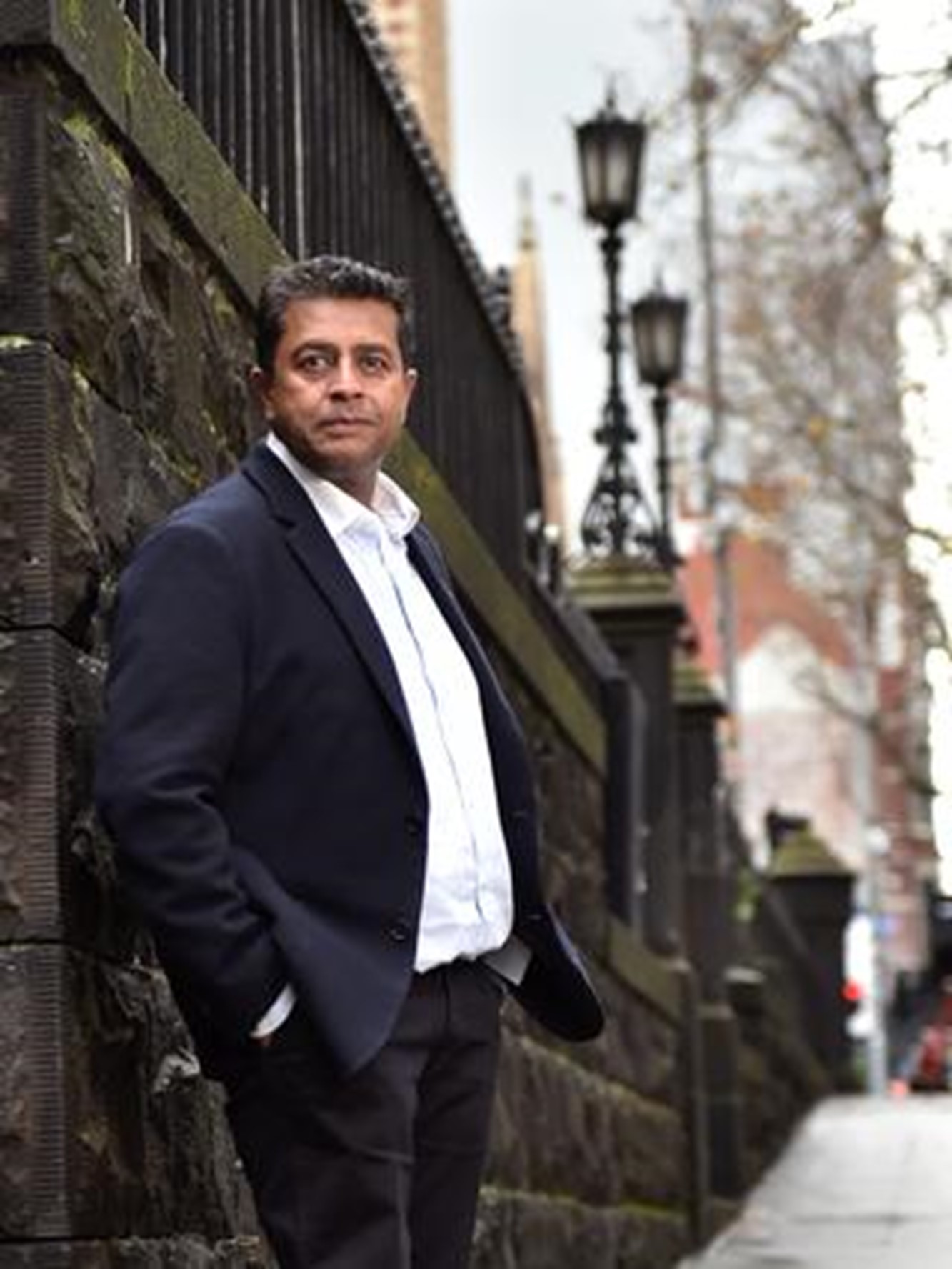 Kumar in Melbourne this month. Picture: NCA NewsWire / Nicki Connolly

As well as being close professionally, they are also good friends. Kumar's Canadian-born wife Cynthia – also a former PwC executive – is godmother to one of Sayers' children. Sayers and his wife Kate are also godparents to one of Kumar's three kids.
So where do they draw the line? Kumar says there isn't one.
"We have never thought about there being a line between the business and personal. It has never been an issue," he says.
Sayers agrees their relationship is both personal and business. "We have never seen a divide in everything we do from a fun perspective outside of work to everything we are striving towards at work. Our relationship is built on the strongest layers of trust and respect for each other's differences," he says.
Sayers was heavily criticised last year for his overhaul of the Carlton Football Club, when he employed Brian Cook as CEO, Michael Voss as coach and revamped the football department. But so far his strategy has been vindicated – the team is set to make the finals for the first time since 2013.
"I think he has done an amazing job at Carlton. He got panned for it and the external scrutiny in the early days was certainly intense," Kumar says, before adding: "As a mate I wish him luck but as a passionate Hawthorn supporter, I only want one team to do too well."
Today Kumar's father Santosh is still going strong at the age of 87. Last year he was awarded an Order of Australia for his outstanding service to the Indian community of Victoria. He lost his wife of 57 years, Bala, just a month before receiving his award.
Kumar says his parents taught him long ago that actions are more powerful than words. "Don't talk about what you are going to do. Put your head down, do it and let your results show," he says.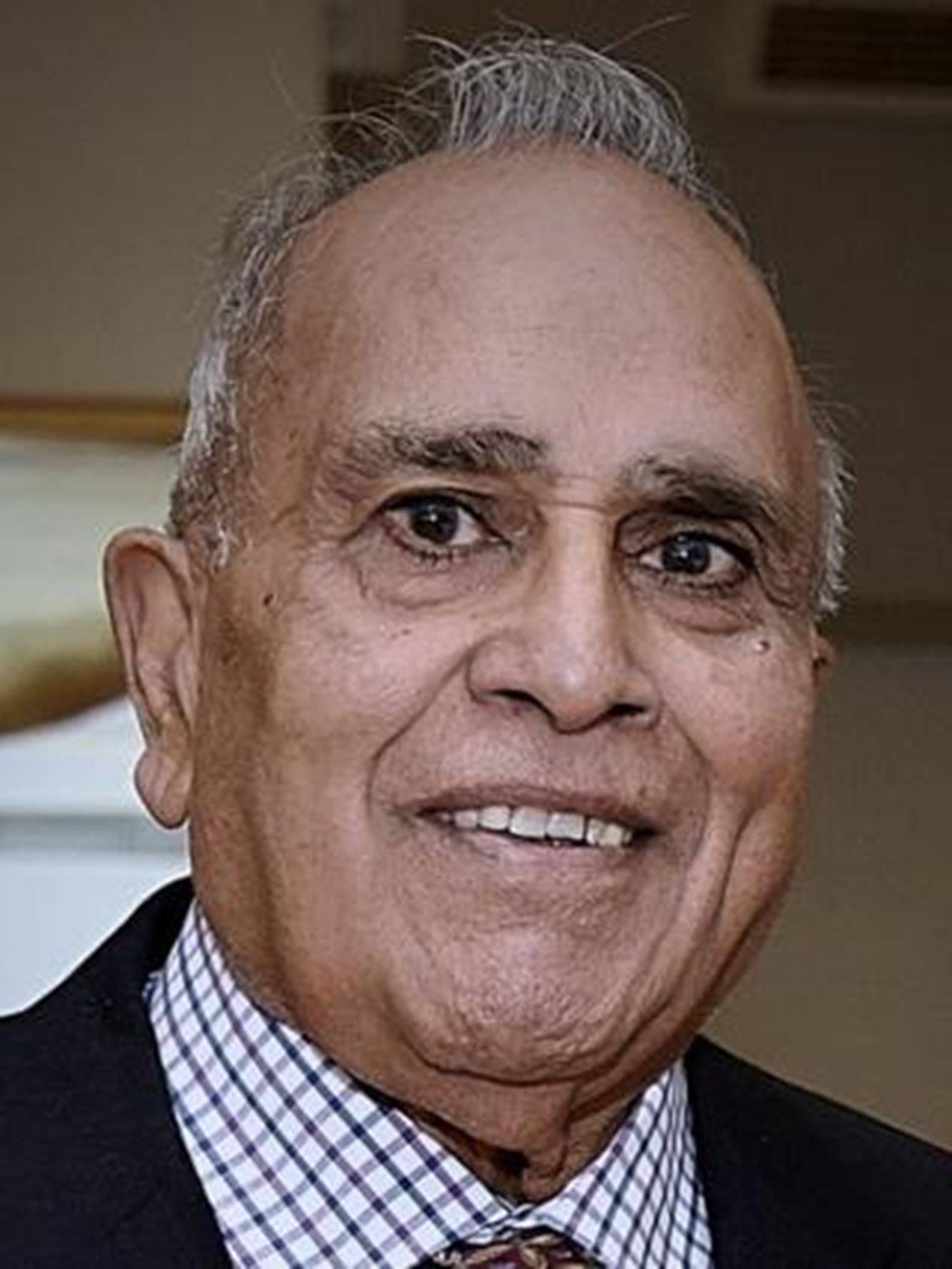 Sammy Kumar's father Santosh Kumar.

Kumar has returned to India many times. A few years ago he did a road trip with his family through the Indian states where he and his parents were born. It opened the eyes of his children. "They are first generation, the kids. You just can't describe the chaos they saw. Cows on the street and extreme poverty through to modern India and extreme luxury, all sitting next to each other," he says.
Kumar will never forget his roots and wants to help the Indian community play a greater role in Australian corporate and political circles.
"In my early years I tried very much to fit into being an Australian. Then I grew into more and more love, respect and understanding of my heritage. Since my teenage years that has become more important," he says. "Part of it is making sure that I can do the best possible for that heritage and that community. Most importantly I want to remember it. But I also want to help others."
DAMON KITNEY - COLUMNIST

Damon Kitney writes a column for The Weekend Australian telling the human stories of business and wealth through interviews with the nation's top business people.